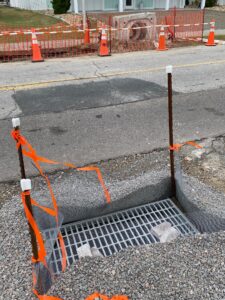 Work has begun on resurfacing Ocean Boulevard and adding bike lanes to each side of the road.  Storm drainage work is being performed from now until mid-December, followed by sidewalk prep, followed by the widening of the roadway and shoulders.  This work is expected to start on the east end and work westward, finishing in February.  Intermittent daytime traffic disruptions will occur but will be resolved by the end of each workday.
Paving will be performed from March through May 20th, also working from east to west.  No work will be performed between May 21st and Labor Day.  Final work items will be completed after Labor Day, and everything will be finished by November 16, 2024.
If you want to save trash corrals, landscaping, driveway rock, or other items in the right-of-way, you will need to move them before the work reaches your property.  The road is being widened by seven feet on the ocean side and three feet on the ICW side.   Mailboxes will be moved by the NCDOT.
The bike lanes were added to the scope of the NCDOT repaving project.   In April of 2022, the Town's portion for the bike lanes was $723,393.  After the initial bids came in outside the allowable overage amount, the project was rebid.  When these bids came in the Town's portion was increased by $100,000 – making the Town's total cost for adding the bike lanes $823,393.
While the repaving project has a stormwater component to it, the Town is also currently conducting a separate stormwater study.  The contract to perform this study was awarded to McGill Associates for $131,200.