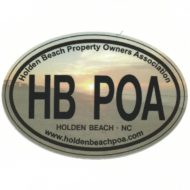 Updated Parking Zones 01-26-22       Special Meeting Results Summary 01-26-22 Table
The Town of Holden Beach Board of Commissioners met Wednesday, January 26, for a Special Meeting, click here for the agenda and meeting packet.  After extensive Public Comment, the Commissioners reviewed the plan for parking.
Summary of key changes made during agenda item 3a:
"Compact" designation was changed to "LSV" for low-speed vehicles (i.e., golf carts)
Eliminated parking not located near a Public Access
The parking on most side streets intersecting Ocean Blvd was reduced to two LSV spaces
Right of Way (ROW) parking adjacent to marshland was kept unchanged but is dependent on the results of the wetland delineation
Swordfish might not have sufficient space for parking since the road is off-center on the ROW
Pier parking lot was eliminated
New parking zone was added for Raleigh St.
Other changes are noted in the Table.
HBPOA has created  updated maps that reflect the changes made at the meeting to the best of our ability.  It also shows green arrows for public beach accessways and emergency vehicle accessways.  Refer to the table for a narrative description of the location.
The table compares the results with the original plan from the January 18th meeting.  The numbers shown in the table are based on our notes from the meeting and from listening to the audio recording on Facebook, which was often very difficult to follow.  The total of 576 spaces shown on the table doesn't agree with the "around 500" number that was stated at the end of the meeting.   This discrepancy will need to be resolved once the "official" number is released by the Town.  It was noted that the results of the meeting are a "working document" and subject to change.
The meeting was recessed until Wednesday, February 2, at 3:30PM.  At that time they will continue the agenda.
Again, the Commissioners went into Executive Session to discuss acquiring property.  No action was taken.