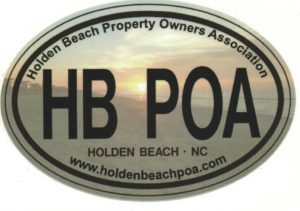 The Board of Commissioners met June 16 for their regular monthly meeting and a Public Hearing regarding the 20-21 Town Budget.  Below is a brief summary of the meeting.  The meeting packet is available here.   You can listen to the meeting here.
COMMISSIONERS' PUBLIC HEARING/REGULAR MEETING HOLDEN BEACH TOWN HALL – PUBLIC ASSEMBLY
TUESDAY, JUNE 16, 2020 – 7:00 P.M.
PUBLIC HEARING: Proposed Budget for Fiscal Year 2020 – 2021
REGULAR MEETING:
1.  Invocation
2.  Call to Order/ Welcome
3.  Pledge of Allegiance
4.  Agenda Approval Approved.
5.  Approval of Minutes  All approved.
a.  Minutes of the Emergency Meeting of April 30, 2020

b.  Minutes of the Regular Meeting of May 19, 2020

c.   Minutes of the Special Meeting of May 28, 2020
6.  Public Comments on Agenda/General Items  None
7.  Discussion and Possible Consideration of Ordinance 20-10, Budget Ordinance for Fiscal Year 2020 – 2021 (Final Approval No Earlier than 24 Hours After Public Hearing) – Town Manager Hewett  The BOC will meet Thursday, June 18 to discuss and possibly approve the budget.  They voted 3-2 to add a total of two additional police officers and voted 4-1 to fund a 3% bonus pool.
8.  Discussion and Possible Action on the Suggested Rules of Procedure for the Town of Holden Beach Board of Commissioners – Commissioner Kwiatkowski/Town Clerk Finnell  Approved unanimously.
9.  Discussion and Possible Action on Ordinance 20-07, An Ordinance Amending the Holden Beach Code of Ordinances, Section 30.11: Terms of Office; Filling of Vacancies – Town Clerk Finnell  Approved unanimously.
10. Discussion and Possible Action on Membership of Town Boards and Committees – Town Clerk Finnell  Agreed to reseat members who were allowed to serve another term if they have expressed an interest in continuing to serve.  They will fill vacancies at a later date.   
11. Discussion Related to Hiring a Firm to Conduct an Evaluation to Determine System Development Fees – Commissioner Sullivan  Voted unanimously to ask Town Manager to seek bids for a firm to conduct an analysis on the System Development Fees.
12. Discussion Related to Increased Police Resources – Commissioner Sullivan Voted to form a committee comprised of two members of the BOC, the Town Manager and the Police Chief to investigate seasonal officers for next season. 
13. Discussion and Possible Action on Potential Issues – Commissioner Tyner  Agreed to revisit the list at the July meeting.
14. Town Manager's Report  Sewer Lift Station #3 is on schedule.  Brunswick County is reviewing the Sewer Service Agreement, more will be known in mid-July.  The wholesale water contract is also expiring.  The county will be distributing COVID money based on census-determined population to the municipalities.   The Lockwood Folly maintenance dredging is complete and the most recent survey looks good.  He has an upcoming meeting with the Corps.  The sand from the Lockwood Folly will go to Oak Island next year.  The sand search for the "Flo-Mike" project is ongoing.  He now expects to apply for permits in August.  Modified yoga is beginning in the Pavilion and Tide Dye is DIY this year.  To date, they have pushed the concerts to later in the summer.
15. Mayor's Comments  The rental business is booming and may exceed last year's numbers for the summer and fall.  Real estate is also very hot.  He thinks the island looks good.
16. Board of Commissioners' Comments  Commissioner Brown:  No remarks.  Commissioner Murdock:  Encouraged everyone to stay safe and thanked the staff.  Commissioner Sullivan asked about opening the playground.  (He was told it is not allowed yet by the State.)  He asked the Town to send a blast and put it in the water bill about the Census.  Commissioner Kwiatkowski also urged people to stay safe and commented that things are looking better.  Mayor Holden added that the Chapel is holding services. 
It was agreed that Commissioners Kwiatkowski and Sullivan will serve on the committee to review Police resources.
17. Executive Session Pursuant to N.C.G.S. 143-318.11(A)(6) to Discuss Qualifications, Competence, Performance of a Public Officer or Employee – Commissioner Tyner  Approved unanimously.
18. Adjournment  Recessed until Thursday, June 18, 2020 at 3:30pm.
* Due to the Town of Holden Beach's State of Emergency Restrictions and Governor Cooper's Safer at Home Order, in person public attendance is prohibited. The meeting will be livestreamed on the Town's Facebook page. Visit https://www.facebook.com/holdenbeachtownhall/ to watch the livestream. Public comments can be submitted to heather@hbtownhall.com or deposited in the Town's drop box at Town Hall prior to 6:00 p.m. on June 16, 2020. Comments on the budget will be accepted until June 17, 2020 at 7:00 p.m. If you would like the comments to be heard at the public hearing, they must be submitted by June 16, 2020 at 6:00 p.m.