A bill in the NC legislature called for the removal of  a rock dam that was built in the late 1800s to close off New Inlet between Bald Head Island and Fort Fisher.  The dam functions to improve the flow of the Cape Fear River and helps eliminate shoaling.  The dam and surrounding habitat have come to be known as Zeke's Island.  The inlet has been closed since 1879.  Included in House Bill 97 is the legislation to remove the rock dam.  The House Bill never made it out of committee but a similar language made it into the budget requiring the State to do a study on the issue.
There is concern among area beach communities that removal of the rock dam would increase beach erosion and open another inlet among other problems.  A White Paper Engineering Analysis of removing the rocks covers the issues.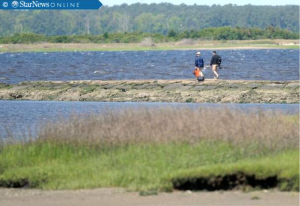 Bald Head Island led the effort to stop the bill and passed a Resolution  opposing House Bill 97. In addition, Southport, Oak Island, Carolina Beach, Ocean Isle and Caswell Beach have also passed resolutions opposing the bill.   Kure Beach and Sunset Beach will be considering resolutions at their July meetings.   Information was presented to Holden Beach, but since the item was not on the agenda no action was taken.
The topic has been in the news lately as well.  You can read articles here and here.
UPDATES:
A summary of some of the concerns and information points can be found here.
As of August 2015, the saga continues.  You can read about it here.  The Rocks/Zeke's Island  is one of the items holding up the state budget approval.  The issue is complicated because the area that would be impacted is one of the three original National Estuarine Research Reserve components.
The Star News published this editorial on August 30, 2015 on The Rocks.  Click here.
4/29/16  Corps of Engineers asks for purpose of removal:  http://www.starnewsonline.com/article/20160428/NEWS/160429683?Title=Army-Corps-Why-remove-The-Rocks-
4/14/16  State Report Not Favorable to Removal  http://stateportpilot.com/topstory/article_674d10be-01b1-11e6-badc-2b1e33cd9b2b.html
10/30/15  Enhance Ecology or New Shipping Terminal?  http://stateportpilot.com/news/article_4803cec6-7e41-11e5-b2fa-5b08bbc73a13.html
10/21/15  Rocks going nowhere soon  http://www.starnewsonline.com/article/20151020/ARTICLES/151029954/1015/news01?Title=Despite-bill-The-Rocks-going-nowhere-anytime-soon-
9/28/15  The State Budget calls for removal of the Rocks  http://www.starnewsonline.com/article/20150928/ARTICLES/150929740/1015/news01?p=1&tc=pg