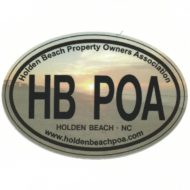 The Town of Holden Beach Board of Commissioners will meet Tuesday, February 16th for their regular monthly meeting.
The agenda includes possible action to create the new parking lots that were described in our email to members.  The public hearing prior to the meeting is for changes to the building height measurement point and not the parking lots.  Regular meeting highlights also include possible change of speed limits during the off-season on OBW, changes to the trash can rules, and increases in the water rates.  Click here for the meeting packet, the parking lot information starts on page 140.
We encourage you to send your comments to the Town Clerk and/or the Commissioners prior to the meeting.  The HBPOA has heard the following complaints regarding the new parking lots:
The parking lots provide no benefit to taxpayers/property owners
The impacts to property owners have not been considered
There have been no opportunities for public input or notice
There has been no analysis of the ongoing costs
The plans should, at a minimum, follow a re-zoning process since they are changing the purpose of the property
If you have comments to submit but want to remain anonymous, please send them to HBPOA@hotmail.com and we will represent you.  The HBPOA as an organization has not yet taken an official position, but we have also not heard from any property owner who is in favor of these new free public parking lots.