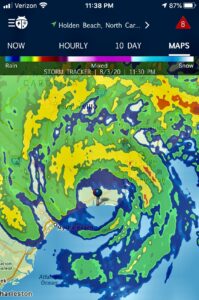 FEMA has announced that Brunswick County has been declared a major disaster area and eligible for federal funding in the wake of Hurricane Isaias.  This allows our beach to apply for funding to cover the damage to the beach strand and other expenses.  The storm hit our beach on August 3 during a full-moon high tide causing massive flooding of the canals and marshes and beach erosion.  The Town is already working on replacing lost sand fencing, rope and poles, and vegetation. The preliminary estimate of sand loss to the beach strand for Isaias was 60,000 cubic yards (cy) at an estimated cost of $5,375,950.
The declaration was important because it means FEMA will reimburse the Town for 75% of the cost of repairs and the State has traditionally covered the remaining 25%.  While these are reimbursement programs and take time and effort to shepherd through the bureaucracy and paperwork, it does provide the Town with 100% of the cost of repairs.
The Isaias declaration adds another storm to the Town's list of FEMA reimbursement projects.  The Town is currently working on a project to cover damages from Florence and Michael.  The "Flo-Mike" project will replace the 1,160,298cy of sand lost along the engineered portion of the beach.  The cost is estimated at $24,408,726.  The project has been approved by FEMA, the sand has been sourced, and depending on how the bids come in will occur in the winter of 2021-22 or 2022-23.  In addition, damages from Hurricane Dorian are pending approval and if approved in time will be added to the Flo-Mike project.  Sand loss from Dorian was 555,927cy at a cost of $14,914,698.
You can read more about the declaration here:
FEMA Disaster Declaration:  https://www.fema.gov/disaster/4568
From WECT: https://www.wect.com/2020/10/14/major-disaster-declaration-granted-nc-counties-hit-hard-by-hurricane-isaias/