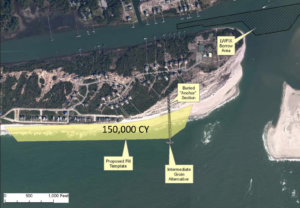 The Holden Beach Property Owners Association has concluded that the nourishment efforts performed by the Town over the past 15 years have been very successful and cost-effective in protecting the east end of the island, and that the additional costs and risks associated with a terminal groin are not justified.
The attached material provides the basis for this position, and includes the resolution that was passed by the HBPOA members during their meeting on March 31st urging the Board of Commissioners to continue with the same nourishment and Lockwood Folly inlet strategies from the last 15 years, and to stop spending the Town's money and resources in pursuit of a terminal groin.
Terminal Groin Committee Report and Resolution
The Corps of Engineers, Wilmington District will receive written comments pertaining to the proposed groin until 5 PM, April 16, 2018. Comments should be submitted to Mr. Mickey Sugg, Wilmington Regulatory Field Office, 69 Darlington Avenue, Wilmington, North Carolina 28403,  (910) 251-4811.  HBPOA has requested an additional 30 days for comments, but it is not clear that the extra time will be granted.  Visit our Terminal Groin Page to learn more about the proposed groin.