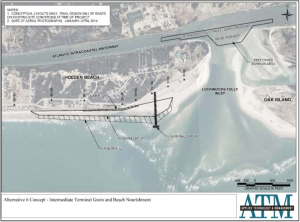 The Holden Beach Property Owners Association (HBPOA) and the Coastal Federation are holding a public forum about the proposed Terminal Groin on Friday, April 29th, from 6:30 – 9:00 PM at the Holden Beach Chapel.
The objective of the session is to provide property owners with both "pro" and "con" arguments from recognized experts so you can form opinions based on the best available information.
Invited speakers include Town officials, consultants who support the project, and experts who will discuss the potential impacts this hardened structure could have on the inlet, beach, private property and the economic wellbeing of the Town.
Advance registration is required since we will be serving a light meal provided by the Coastal Federation and need to know how many people will be attending. 
Please register here:  https://app.etapestry.com/cart/NorthCarolinaCoastalFederatio/default/item.php?ref=840.0.173877335. 
For additional information about the proposed terminal groin, click here.