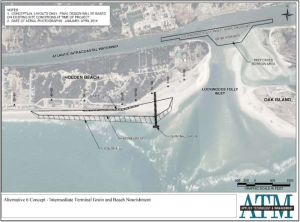 As an organization, HBPOA has not taken a position on the groin.  Our members have indicated that they need more information to take a position.  At the Easter 2016 meeting a motion was passed to host an information session on the groin.  This was scheduled for April 29, 2016 and the Town along with firms contracted by the Town to prepare the EIS for the groin (Dial-Cordy Associates and ATM) were invited to attend along with the Coastal Federation and the Southern Environmental Law Center.  Dial-Cordy declined to attend and the Town and ATM did not respond.  HBPOA was quoted in this article.
The information session was recorded.  You can view the slides or listen to the meeting while viewing the slides here.  
Information About the Proposed Groin
The Army Corps of Engineers has released the Draft Environmental Impact Statement  (DEIS) for a terminal groin on Holden Beach and hosted a Public Meeting on September 24.  Comments were accepted through October 13.  Currently, the Corps of Engineers is reviewing the comments and making the determination whether to issue the permit for the groin or not.
The proposed groin will be 1000′ long and have a 120′ "T" section at the end.  The groin will reach 700′ into the ocean with the remaining 300′ on the beach and be constructed of 4- to 5-ft-diameter granite armor stone.  The crest of the groin would be approximately five feet wide and the base would be approximately 40′ wide.  Total cost of the groin is estimated at $34,410,000.  We encourage you to review the DEIS and become familiar with it and the appendices.
Coastal and environmental groups are opposed to the groin.  The North Carolina Coastal Federation in conjunction with the Southern Environmental Law Center and Audubon North Carolina has launched a website explaining their concerns.  There are also links to more information on the site.
Graduate students at Duke University used the issue as a class project to determine what property owners understand about the effects of terminal groins on beach erosion and  what are property owners' preferences regarding erosion interventions.  A survey was sent to property owners in the spring of 2016.  The results of the survey are here.
Our contact at the corps of Engineers was Ms. Emily Hughes, Wilmington Regulatory Field Office, 69 Darlington Ave. Wilmington, NC  28403, or by email to:  Emily.B.Hughes@USACE.army.mil  You can also contact Ms. Hughes at 910-251-4635.
For more information:
4-10-17  Interview with David Hewett and others on Terminal Groin  http://whqr.org/post/coastline-shoreline-stabilization-terminal-groins-ocean-isle-and-holden-beach#stream/0
5-3-16:  Article on Information Session:  http://www.coastalreview.org/2016/05/14217/
4-29-16:  Article on Groin Information Session http://www.coastalreview.org/2016/04/14175/
4-24-16:  NC Division of Coastal Management Coastal Erosion Study (Groins discussed beginning on page 13)   https://ncdenr.s3.amazonaws.com/s3fs-public/Coastal%20Management/documents/PDF/North%20Carolina%20Beach%20Erosion%20Study%20DRAFTvMASTER%2020150211.pdf
2-17-16:  Impacts of Terminal Groins on North Carolina's Coasts  http://dukespace.lib.duke.edu/dspace/bitstream/handle/10161/5182/Knapp_Whitney_MP.pdf?sequence=1
1-28-16:  CoastlineRadio Program from HQR Radio Wilmington discussing the Figure Eight Terminal Groin: http://whqr.org/post/coastline-figure-8-island-terminal-groin-debate#stream/0
10-21-15:  North Carolina Coastal Federation Comments:  NCCF_HB_DEIS_2015_Comment letter
10-21-15:  Southern Environmental Law Center Response:  2015-10-13 – SAW-2011-01914 – Holden Beach East End comments
10-20-2015:  Groups blast terminal groin  http://www.coastalreview.org/2015/10/audubon-blasts-towns-terminal-groin-plan/
9-26-15 Article on Public Meeting:  http://www.starnewsonline.com/article/20150925/ARTICLES/150929778/1017/news01?p=all&tc=pgall
Draft Environmental Impact Statement:  http://www.saw.usace.army.mil/Missions/RegulatoryPermitProgram/MajorProjects/HB-DEIS.aspx
Article on Holden Beach Groin 9-15-15:  http://www.coastalreview.org/2015/09/holden-beach-terminal-groin-study-released/
Links to other Terminal Groin Studies including Bald Head Island and Ocean Isle:  http://www.saw.usace.army.mil/Missions/RegulatoryPermitProgram/MajorProjects
Links on Terminal Groins from Town of Holden Beach  http://www.hbtownhall.com/terminal-groins.html